The Alliance Newsletter 2017 - Q2
Note from the Editor: The newsletter is capable of being viewed by anyone that can find The Alliance kinship site. However, only members who are logged into the site can access all of the links contained within the newsletter.
Letter from the Leadership Council:
- Greetings, dear members of The Alliance!

Welcome to this second issue of The Alliance Quarterly! With a few weeks of experience in Update 20 and the great adventures in Mordor coming closer, The Alliance will remain a strong beacon of hope in these dark times of war!

Luckily there are also joyful events which will leave happier memories, like welcoming dozens of new kinnies or our beloved Tabriel drunkenly trying to run over fences, to our (and mostly my own) amusement. One such memory of which we are proud is that we were the host for the "Exploring The Lord of the Rings" event with the Tolkien Professor on March 28!

I'm also very happy to return to my old position of Defender of The Alliance in the Leadership Council now that I have more time for the game again. As always, if I can assist with anything - let me know and I'll see what I can do :)

May the Valar guide you on your travels,
Fordil, Defender of The Alliance -
The Alliance of Landroval hosts: Dr. Corey Olsen
Member Focus of the Month:

Living in the tiny southern state of South Carolina and a member of the Leadership Council, meet Maranwethiel. Be careful though, she likes to burn things.
See HERE for more of her story.
Member Led Events or Groups:
PPRC and Allied Kinships Sponsored Events:
Deeding Night - Hosted by Knights of the White Lady - Weekly meeting at 9PM servertime for deeding. - Contact Ashigaru
General Kinship Information: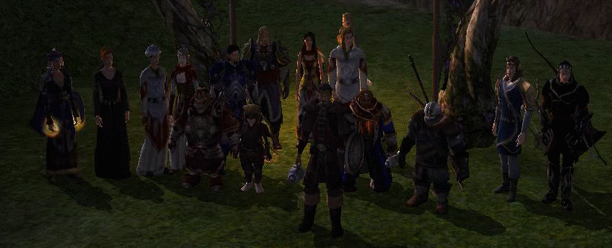 -
Have something that you want added to the next issue of the Newsletter? Please contact Maranwethiel, with details.
-